The First Contact Problem occurs when a journalist first reaches out to a source. Some aspects of this problem, at least as I understand it:
Most likely, that source has little experience with secure communication and there is probably not a secure way to reach them electronically.
No matter what happens after, the insecure first contact leaves a trail of metadata and content that can later become a problem.
Very commonly, relationships with sources start out innocuous and only later (sometimes years later!) transition to a conversation about sensitive topics.
It can be quite difficult to get sources to use secure comms tools in a secure way. And that's what I think when I'm feeling optimistic.
Quite often, just discussing security can spook the source, and potentially lose the story.
Here was my best advice on this topic as of a few weeks ago (from these slides). I considered it basically an unsolvable problem, because getting someone to install an obscure app before you could even talk to them... uggh.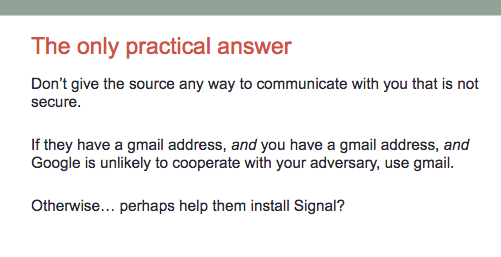 Then suddenly, WhatsApp had strong encryption.
Now you still have to meet the source in person first. And WhatsApp may require some care to use securely. But your source probably has it installed, and anyway their friends almost certainly use it so it's not so weird to ask them to install it.
Given the available options, my instinct is now to recommend WhatsApp as the go-to platform for journalist-source comms. It's as good a solution to the First Contact Problem as I've ever seen -- assuming Facebook is not your adversary or likely to cooperate with your adversary.
Thoughts?